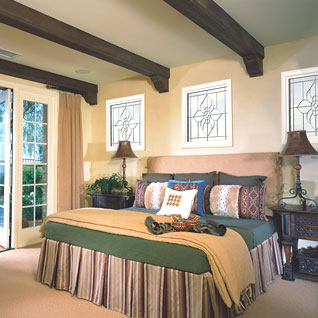 Window Art
---
News Release Contact: Kathy Ziprik. 828-890-8065. kziprik@aol.com


PENSACOLA, FLA - What if the framed feature painting in your living room got less attention from visitors than your decorative glass windows? What if your eyes strayed from the person you were talking to over dinner and lingered on the delicately-designed windows behind them? These situations all turn to reality when homeowners add stylish glass windows to their homes.


"Decorative glass windows add so much character to a room that they become the view," says Roger Murphy, president of Hy-Lite, a U.S. Block Windows Company. "These windows serve as their own artwork for any room with the added benefit of providing privacy in the home."


At Hy-Lite, an assortment of square, geometric and oval shaped windows are available in both fixed and operable styles. Some windows feature black, satin or brass caming to offset beveled glass pieces and other privacy textured glass, while other windows boast impressive silkscreened designs.


"Having the Brilliance style wrought iron window in a dining room setting of an Arts & Crafts or Traditional style home makes quite a statement," says Murphy. "Another option for this home style would be a Craftsman style awning, casement or fixed window. With the selection of styles available, there's definitely the perfect fit for every home style."


Murphy dismisses the old-school thought that decorative glass windows belong just in bathroom settings. "Why hide the beauty of these windows?" says Murphy. "Yes, they dramatically enhance any bathroom, but then you're not sharing the art of these windows with the rest of your family and guests.


"These days savvy builders are designating unique spaces in the home for decorative glass windows, such as hallways, kitchens and home offices. These are all areas we use regularly throughout the day so everyone in the family can enjoy the view!"


Hy-Lite offers decorative glass windows as large as 51" x 51" and 36" x 60", so that the artistic windows can be used as a focal point in a room. As an option, side-by-side complementary windows can also be used in the home to create a striking accent wall of windows.


Not sure which decorative glass window would work in your home? Hy-Lite offers a free Privacy Window Design Guide that provides design inspiration, room transformations and a complete overview of the company's operable and fixed acrylic block and decorative glass windows. The colorful brochure showcases unique installations of privacy windows, wall systems and door inserts. To receive the free guide, call 888-256-2599 or visit www.hy-lite.com to download on the literature page.


Hy-Lite, a U.S. Block Windows Company, is the leading manufacturer of acrylic block, glass block and decorative glass windows. The company's privacy product options include acrylic block shutters, accent panels, radius walls, partition walls and door inserts. Since 1988, the Pensacola, Florida-based company has been committed to providing residential and commercial construction professionals and homeowners with elegant, affordable privacy window designs. For more information, visit www.hy-lite.com.
###