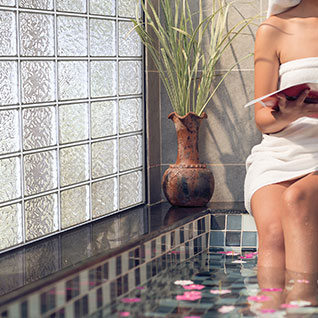 SunBlock for the Home
---
Press Release Contact: Kathy Ziprik. kziprik@aol.com. Office: 828-890-8065


PENSACOLA, FLA - To meet the request of homeowners and builders looking to add energy efficient privacy windows to the home, Hy-Lite now offers three different energy efficient options for their durable acrylic block windows.


The SunBlockTM PLUS window limits the solar heat gain allowed to penetrate into the home through tinted ultraviolet (UV) inhibitors and infrared absorbers in the resin used to make the acrylic blocks. Ideal for warm climates, these windows can be used for both new construction and replacement, and come in both operable and fixed styles.


The E3 Triple Glaze block window includes an extra panel of acrylic in the center of each block to help increase the insulative power of the window. Perfect for cooler climates, this block comes in a Glacier or Wave block pattern.


"Let the sun shine in" is the spirited cry of homeowners with E3 SunBlockTM PLUS windows from Hy-Lite. This hard-working window combines the solar heat reduction of a SunBlock PLUS window with the insulative power of the E3 Triple Glaze window. Ideal for all climates, this is the most energy efficient acrylic block offered by Hy-Lite.


All three of the energy efficient block options from Hy-Lite can be ordered in either 9" x 9" x 1-1/2" or 8" x 8" x 1-1/2" block sizes. The three energy efficiency options from Hy-Lite can help keep a room more comfortable during all types of exterior temperatures and assist in lowering energy bills in the home.


"If you're looking at creating large acrylic block wall panels or windows in the home, especially in a southern climate, selecting one of these three energy efficient options makes a lot of sense," says Roger Murphy, president of Hy-Lite, a U.S. Block Windows Company. "These windows can help make a room --- even one in the direct path of the sun --- more comfortable by keeping the sun's UV rays outside the home where they belong."


Hy-Lite, a U.S. Block Windows Company, is the leading manufacturer of acrylic block, glass block and decorative glass windows. The company's privacy product options include acrylic block shutters, accent panels, radius walls, partition walls, door inserts and shower kits. Since 1988, the Pensacola, Florida-based company has been committed to providing residential and commercial construction professionals and homeowners with elegant, affordable privacy window designs. For more information, visit www.hy-lite.com.
###