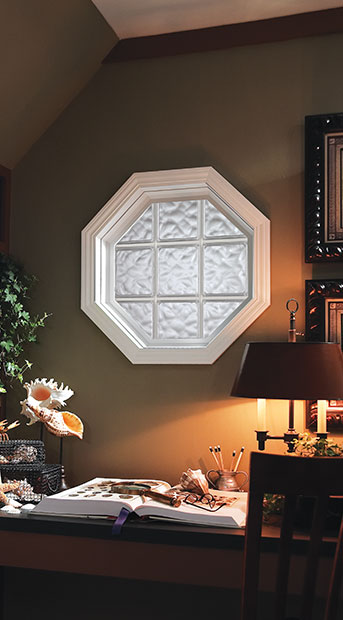 Sizes and Shapes of Accent Windows
---
Press Release Contact: Kathy Ziprik. kziprik@aol.com. Office: 828-890-8065


PENSACOLA, FLA - Rectangular. Triangle. Oval. Octagon. No matter what the shape, Hy-Lite can create privacy accent windows for the home.


Specializing in custom sizes and unique shapes, Hy-Lite offers acrylic block, decorative glass and silk-screened glass windows to enhance every room in the home. The more unique the window request, the more the manufacturing team at Hy-Lite rises to the challenge.


"We've created entire sunrooms and walls of acrylic block windows," says Roger Murphy, president of Hy-Lite, a U.S. Block Windows Company. "We have great design flexibility with creating architectural shapes such as arch tops, round tops and other unique shapes with acrylic blocks. And, there are many block styles to choose from, such as Clear Wave, Cross Rib, Glacier Wave and our SunBlockTM PLUS options."


Acrylic block windows from Hy-Lite can be ordered in both fixed and operable styles. Awning, casement and basement hopper style windows are some of the most popular opening window styles.


Decorative glass and silk screened privacy windows from Hy-Lite are ideal for focal points in the home and where privacy is needed in a room. Popular shapes include ovals, squares, and octagons. Four frame color options --- white, tan, driftwood and bronze --- are available along with a variety of caming styles for leaded glass style windows.


"Whether you're looking for a leaded glass oval window to accent a hallway or a silk-screened square window, we can satisfy your desires," says Murphy. "Our offering also includes stunning wrought iron style windows and acrylic block casement windows that open for ventilation. These windows can easily be incorporated into multiple rooms within the home."


Hy-Lite, a U.S. Block Windows Company, is the leading manufacturer of acrylic block, glass block and decorative glass windows. The company's privacy product options include acrylic block shutters, accent panels, radius walls, partition walls, door inserts and shower kits. Since 1988, the Pensacola, Florida-based company has been committed to providing residential and commercial construction professionals and homeowners with elegant, affordable privacy window designs. For more information, visit www.hy-lite.com.
###