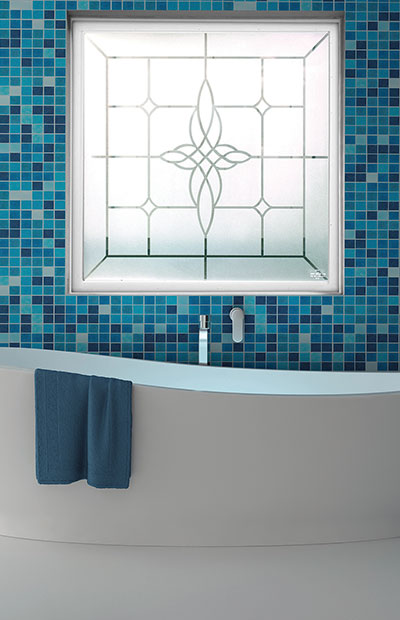 Hy-Lite Expands Popular Bath-Lite Series with Launch of New Storm-Lite Window
---
Press Release Contact: Kathy Ziprik. kziprik@aol.com. Office: 828-890-8065


PENSACOLA, FLA - When the weather gets tough, the tough weather stays outside --- behind new Storm-Lite windows from Hy-Lite&amp. Available now as an expansion to the company's popular Bath-Lite&amp Series, the new impact-resistant Storm-Lite silkscreened glass window brings beauty, privacy and security to an elegant window at an affordable price.


The 4' x 4' Storm-Lite window comes in one of Hy-Lite's most popular design styles, the Aurora, and is suitable for bathroom, living room and dining area settings. Storm-Lite is certified to AAMA 506-06 specifications for Hurricane Impact and Cycle Testing, and has a Design Pressure Rating of DP50 for winds up to 160 mph in Wind Zone 4.


"This durable window features a one-inch insulated unit with an annealed, laminated exterior glass to resist impact from flying debris," says Roger Murphy, president of Hy-Lite, a U.S. Block Windows Company. "There's also tempered glass on the interior of each unit for enhanced safety, privacy and decorative style."


Storm-Lite windows feature heavy-duty vinyl frames in the choice of four designer frame colors of white, tan, driftwood and bronze. The windows have joined the family of Bath-Lite Series products from Hy-Lite that are known for their affordability and elegance.


"We created the Bath-Lite Series to give builders, remodelers and homeowners a cost-effective option for a privacy window that is more imaginative than simple frosted glass or rain glass," says Murphy. "These windows provide elegance in the home without breaking the budget. They have all the terrific features of decorative glass windows while boasting a value-added price tag."


Introduced to the marketplace in 2013, the Bath-Lite Series includes the Aurora, Olympia and Decorative Star (formerly Texas Star) designs in a variety of sizes, frame colors and nail fin options. The windows have all been designed and constructed to offer an elegant way to ensure privacy in the home while allowing in light. Classic silkscreened designs on the windows replicate individually-pieced decorative glass windows at an affordable price.


Hy-Lite, a U.S. Block Windows Company, is the leading manufacturer of acrylic block, glass block and decorative glass windows. The company's privacy product options include a acrylic block shutters, accent panels, radius walls, partition walls, door inserts and shower kits. Since 1988, the Pensacola, Florida-based company has been committed to providing residential and commercial construction professionals and homeowners with elegant, affordable privacy window designs. For more information, visit www.hy-lite.com.
###