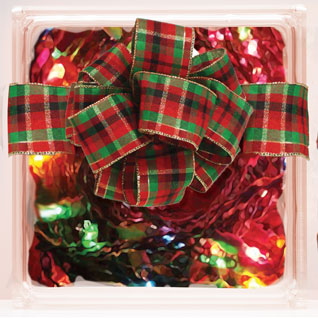 Crafty Holiday Decorations and Gifts
---
Press Release Contact: Kathy Ziprik. kziprik@aol.com. Office: 828-890-8065


PENSACOLA, FLA - Forget about burning the cookies and getting sticky with glue. To get in the true holiday spirit, inspired consumers are creating original decorations and gifts using Craft Blocks from Hy-Lite®. The durable acrylic blocks can be used for interior and exterior holiday projects made by people of all ages.


Each Craft Block comes in a standard eight-inch by eight-inch square size and is three-inches wide. The blocks are fitted with a one-and-one-half-inch sized access hole and has a reusable rubber seal, making it easy to add items inside the Craft Blocks.


"We've seen people fill the blocks with red and green candies and then put a bow around them for the holidays," says Laura Sikes, marketing and national accounts manager with Hy-Lite, a U.S. Block Windows Company. "You can also add greenery and tinsel inside the block, holiday-themed confetti, or strands of decorative twinkle lights. There are endless ways to create holiday decorations using the Craft Blocks."


Sikes also suggests that people --- including children --- can make gifts out of the blocks. "It's simple to create a bank or a memory box using the blocks," says Sikes. "If you're creating a gift for a collector of small items ... like stamps, coins or puzzles, you can fill the block with those items to give as a present. Adding potpourri or scented cinnamon sticks to the blocks creates a fast, easy gift. Or, you can put an assortment of dry dog treats inside the block and add a big paw print and the pet's name on the outside as a gift for an animal lover!"


Easy to handle and transport, the long-lasting acrylic blocks are sold both individually and by the case at www.hy-lite.com and are offered with free shipping.


Hy-Lite, a U.S. Block Windows Company, is the leading manufacturer of acrylic block, glass block and decorative glass windows. The company's privacy product options include a acrylic block shutters, accent panels, radius walls, partition walls, door inserts and shower kits. Since 1988, the Pensacola, Florida-based company has been committed to providing residential and commercial construction professionals and homeowners with elegant, affordable privacy window designs. For more information, visit www.hy-lite.com.